Would You Rather Collect Software Or Save Money?
As my business grew, I became quite the software collector. 
I bet you get it. 
There are so many different options to choose from it can be overwhelming. 
With the most significant difference being price and preference. 
Does it look good, and is it easy to use?
That's important to me.
So much that I found myself paying more for a better user experience. 
And by more, I mean thousands per month. 
Just on software to run my business. 
On top of that, it became sooo time-consuming to duct-tape everything together. 
If something didn't work… 
I had to hire someone or go in a "pass the blame" loop with different software support teams.
Finally, after I realized I was losing sales due to an update that broke an integration, I thought…
There has to be a better way… 
After a quick Google search and asking around, I came across several "all-in-one" marketing platforms. 
Some were thousands a month, and others required a call – meaning they probably weren't very affordable.
Then I discovered GrooveFunnels™. They offered everything you need to sell online – for free. 
I thought it was too good to be true but had to sign up to test it out. 
Then I realized with GrooveFunnels™, I could:
Build all the pages and funnels I need

Manage and communicate with affiliates

Sell all the products I want

Include upsells, downsells, and order bumps to increase store conversions

And more. 
All for free. I never even had to enter my credit card. 
GrooveFunnels™ is easy to use, and I'll admit, the Groove pink is growing on me too. lol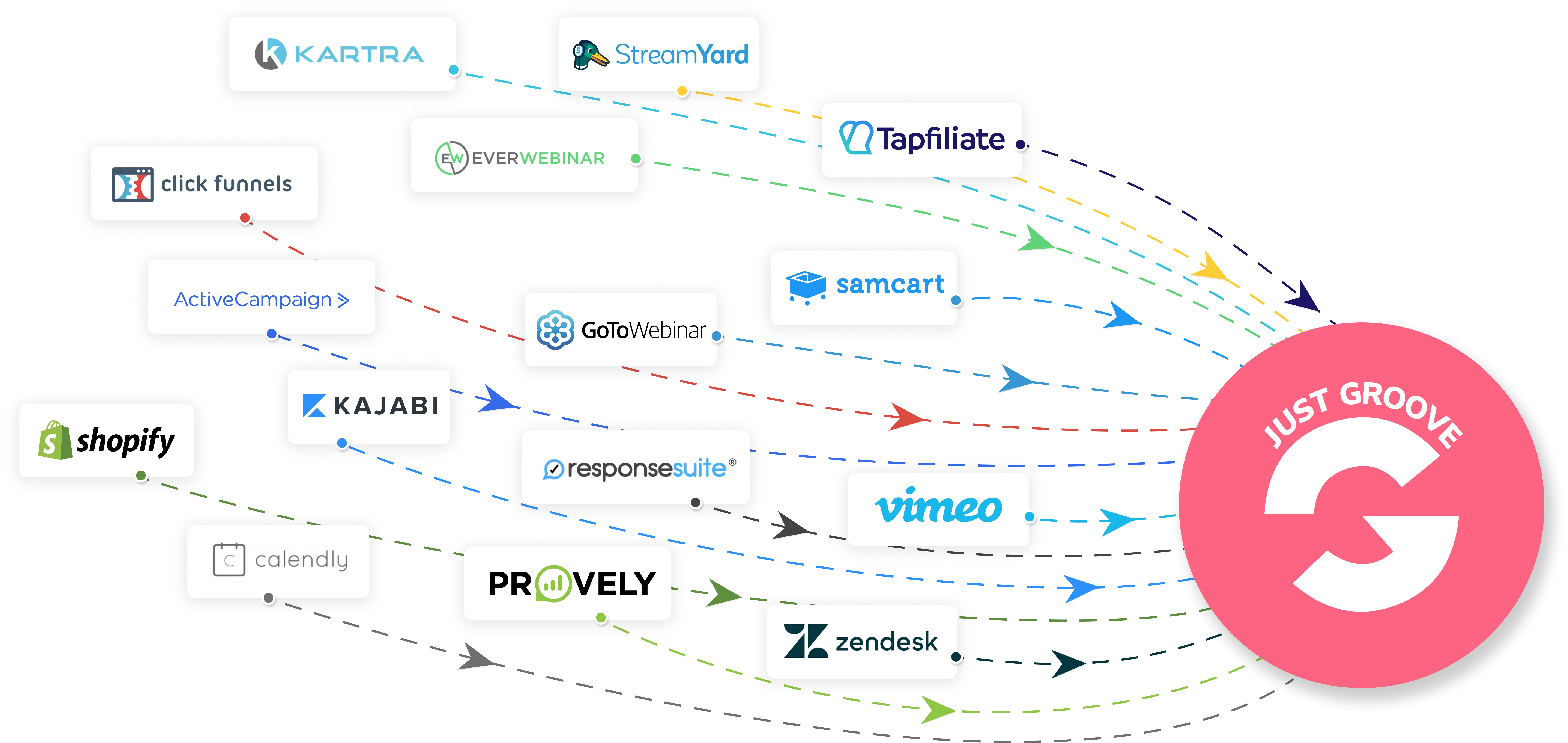 With great software comes fewer responsibilities
One of my favorite aspects of having an online business, besides the freedom (of course!), is all the things you can do with automation.
With software, you can:
Deliver the right messages at the right time to increase conversions

 Send emails based on actions, such as sign-ups, or video views

Automatically collect payments and deliver digital products or ship physical products

Drip content, gate content, and even offer free or paid levels of access to content

And so much more
Seriously, the possibilities are endless when it comes to automation with software.
Once you've created your process and tested things out, you can focus on growing your business while the software does the heavy lifting.
It's like having a sales and marketing team working for you 24/7.
There's just one catch.
Always a catch, right?
You either need to duct-tape much different software together, becoming an integration master to make it all happen.
Or find an all-in-one solution like GrooveFunnels™.
GrooveFunnels™ is an all-inclusive, one-stop software that includes every single software you need to run an online business.
And it's free, for life, guaranteed.
Everything you need to run your business – in one place. Really.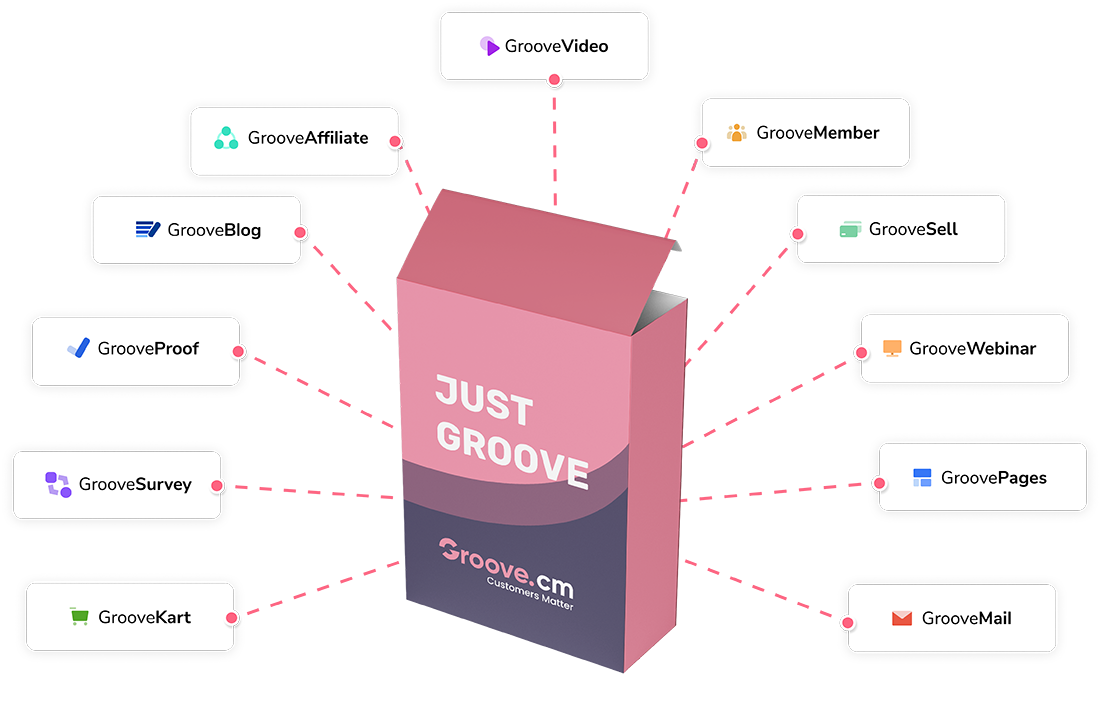 Did you know that GrooveFunnels™ combines 20 different services that are necessary to run your business?
No more needing to rely on a third-party program to duct-tape several monthly subscription services together.
With GrooveFunnels, you can: 
Capture leads and

converts them to a sale

with GroovePages™

Sell unlimited products

to an unlimited number of customers with GrooveSell™

Manage and

communicate with unlimited affiliates

using GrooveAffiliate™

Send emails and create advanced automated campaigns

with GrooveMail™

Grow your passive income and

create a membership site

with GrooveMember™

Boost conversion rates

, increase engagement and truly stand out from the competition with GrooveVideo™

And so much more…
All free – for life. 
If you're trying to do the math to figure out the savings, don't bother. 
I was curious and had already done it. 
It's almost $7,000 per year for life. 
Go here to sign up and start saving. 
Top 10 Reasons You Should Build Your Business On GrooveFunnels
Watch this entire video to learn about all the benefits of using GrooveFunnels to build your business!
Did You Know That GroovePages Is Awesome For SEO?
Watch this entire video to learn about all the benefits of using GroovePages to improve your organic search engine results!
[Limited Time Only] GrooveFunnels is now Free
Free Access to GrooveFunnels – the new best way to build better funnels
Free for LIFE
No games. No fine print.
No credit card is needed ever!
$99/month value… Now free.
Grab your account while you still can!
The world has changed so much recently.
And during these times, I am always excited whenever I find new solutions to help you in whatever way I can.
I'm sure you've heard of software tools designed to help you build websites, sales pages, and online funnels.
Because sales funnels are proven to be effective, any such tools could reasonably command high monthly fees to access.
Unfortunately, this could also be out of reach for many business owners and marketers who are on a budget, especially during uncertain times.
This is where GrooveFunnels comes in.
GrooveFunnels is the new, better way to build funnels and sell digital products online.
It's not just one or two simple tools, or solely a "funnel builder," either.
This is your complete digital products and services online sales system.
Co-founded by Mike Filsaime, one of the top Internet marketing experts in the world, GrooveFunnels is a suite of products that includes all the tools you need to run your online business.
They have built a complete, all-in-one platform with all the essential tools so you don't need to worry about multiple subscriptions to a variety of services that would easily add up to thousands per month.
Finally, you can get instant access to practically everything you need to sell your products and services online.
… Including:
Full product funnels
Brand websites with full navigation
Custom domain names
1-click upsell capabilities
Upsells, downsells, and order bumps
The world's most powerful affiliate program
And so much more…
Yes, this is a game-changer.
And today, for a limited time only, you can get started for absolutely free.
No credit card. Lifetime access. Unlimited usage. Forever.
I'm not sure about you, but I will be switching my entire business over to GrooveFunnels.
Literally, everything I need, and save thousands a month in the process.
You'll have to see it to believe.
Take a closer look at it yourself, and pick up your free account while you're there:

P.S. Mike told me that he is making some huge upgrades to his tools over the next several days, and we're not sure if this will continue to be free for long. However, if you get your account right now, you'll still be able to keep your account for life, including all the future updates to the tools. Take some time to learn all about the software, but be sure to grab your free account before it's too late.
GROOVE MEMBERS ARE EARNING 40% RECURRING INCOME FOR LIFE!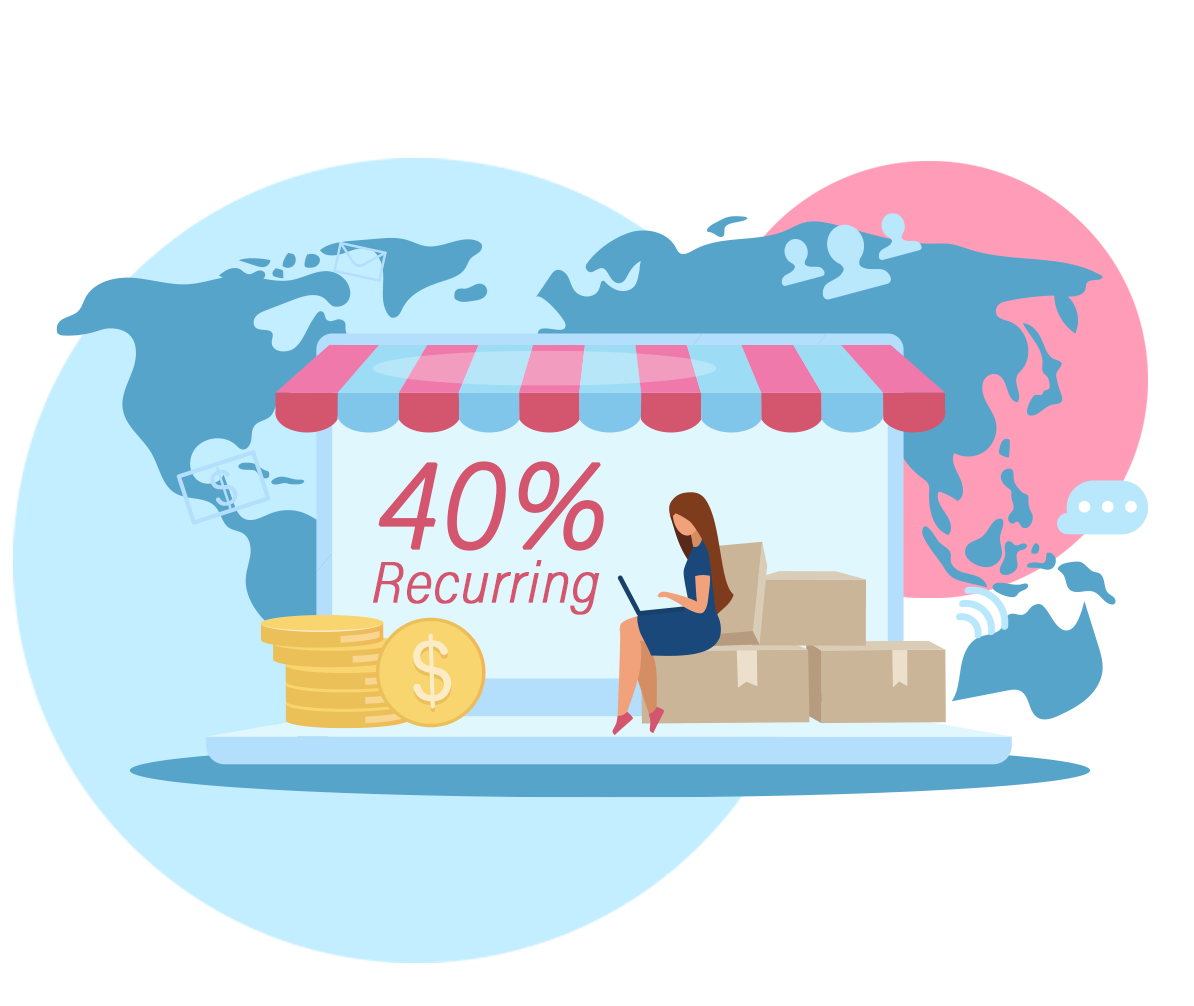 LEARN HOW MEMBERS ARE EARNING 40% RECURRING INCOME FOR LIFE!
---